Allandale Tarn can offer unrivalled coaching by S.A.N.A. Accredited Trout Fly Fishing Instructor Paul Buchanan.
Paul has captained the Scottish International River team and is one of the most capped River Internationalists in the UK, having represented Scotland in eight River Internationals (1992-2014) and winning 3 team golds and the individual Scottish National and UK River Championships in the process.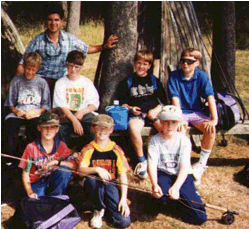 Who needs tuition?
You would be surprised at how many anglers receive fly fishing tuition in the course of a normal season. Not only do you have beginners (never having held a fly rod) wishing to learn to cast, but many other very experienced anglers seek new tactics and techniques to enhance their catches and enjoyment of the sport of fly fishing.
An angler who requires coaching or additional skills to help progress in the sport may never achieve the level of happiness that he/she desires and as a result never get the best out of the money they spend on this amazing hobby. Most beginners can be taught to cast in only two or three hourly casting lessons.
When is coaching available?
I normally coach on Wednesdays (all day) and Saturday/Sunday (mornings only) and from April, mid-week evenings also become available.
Why do I coach at Allandale Tarn Fishery?
I mainly coach fly fishing at Allandale Tarn Fishery in Polbeth (directions) because of the excellent facilities, warm welcome, well stocked tackle shop and most importantly of all, the best quality trout fishing in West Lothian. The Tarn has a very diverse range of aquatic life and forms a great subject to base the teaching of fly life, trout behaviour and fishing techniques. River coaching can be arranged on request.
What is involved in a typical coaching session?
For newcomers to fly fishing, I like to cover knots, basic casting techniques and playing a fish correctly in the first lesson. By the end of the lesson, a student will be expert at self diagnosis and be able to practice effectively on their own (and free of charge!). Depending on your practice schedule or progress, we can arrange further sessions on casting brush-up and/or effective fly fishing methods/technique (mainly nymph and dry fly). I always bring fly fishing tackle for your use although I recommend that if a student already has tackle, they should bring it along. Please also bring along eye protection (normal glasses or sunglasses) and a warm waterproof jacket and waterproof footwear.
How much does tuition cost?
1 hour session for 1 adult is £25.00.
1 hour session for under 16s is £18.00.
2 people can share a lesson and receive a 25% discount. For example, if an adult and under 16 (father & son/daughter maybe!) received a 1 hour lesson together, the total cost of £40.00 would be reduced to £32. Coaching vouchers are also priced as above and a discount is available if three or more vouchers are purchased.

Popular coaching subjects include:
Fly casting (beginners and improvers)

Accuracy and presentation

Single & Double haul (distance)

Casting into the wind

Dry fly techniques

Static nymph/buzzer techniques

Knots, Entomology and Watercraft

River specific techniques (inc. euro nymph, Duo/Trio)
Allandale Fly Fishing Centre
2015/2016 Courses **NAMES BEING TAKEN NOW**
Allandale Tarn offering a range of courses to ensure that everyone wishing to develop their fly fishing skills or learn fly tying can do so within a cost effective and fun group format. Bellow is a list of the course on offer. Full details are available at the fishery & will be available soon here on the web site!

Book quickly as places are limited!!!!
- Fly Tying
- Beginners
- Intermediate
- Fly Fishing Skills
- Introduction to Fly Fishing
- Comp Success & Catch Improvement
- Static Nymph/Buzzer Techniques
- Dry Fly Techniques
- River Techniques
Fly Fishing Tackle
I can provide all fishing tackle required for coaching at no extra cost to attendees, however if you have any of your own tackle, it is very beneficial to bring it along to build familiarisation.
Please get in touch if you need any advice on the type of tackle needed for the type of fly fishing you would like to learn.
I always shop at the Glasgow Angling Centre as they have an incredible range of up-to-date tackle, backed by very knowledgeable staff.